MANY INDOOR-ACTIVITIES WITH FUN FACTOR
Fun guaranteed
For thoseones, who perfere to stay inside on rainy days, we can offer lot's of indoor-activities – fun guaranteed. No matter if you use our well-equipped fitness room or if you want to play a tournament at the very popular bowling alleys or billard tables: there will never come up any boredom.
We guarantee a varying holiday for you and your family – while you are relaxing in our wellness oasis with indoor pool, your kids can enjoy themselves in our kids swimmingpool or at the children's play area.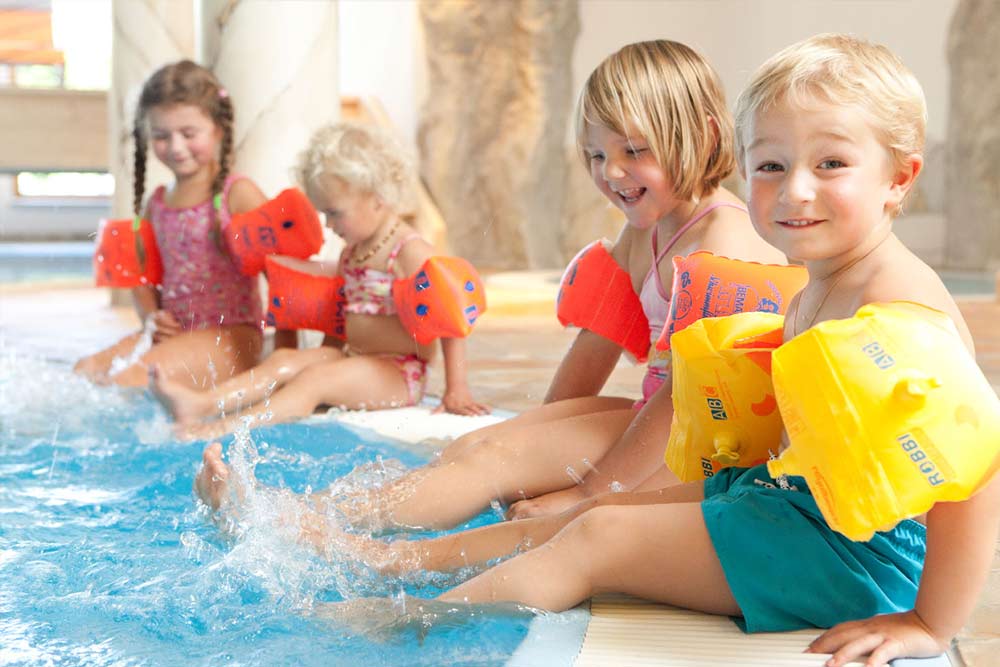 SUMMER ACTIVE HOLIDAY IN SALZBURGER LAND
Your Austrian summer holiday
In summer you can go mountain biking or enjoy one or more oft he numerous hikes in the area. You will find plenty of playgrounds for your little ones to enjoy, as well as forest slides in Maria Alm or a high rope course in the woods.
If you are interested in cultural events and art, have a look at Kunsthaus Nexus or the museums in either Leogang or Saalfelden.
Biking
For cyclists the area offers 720 kms to mountain bike on, as well as 480 even paths along the valley. You can rent mountain or city bikes directly at the hotel.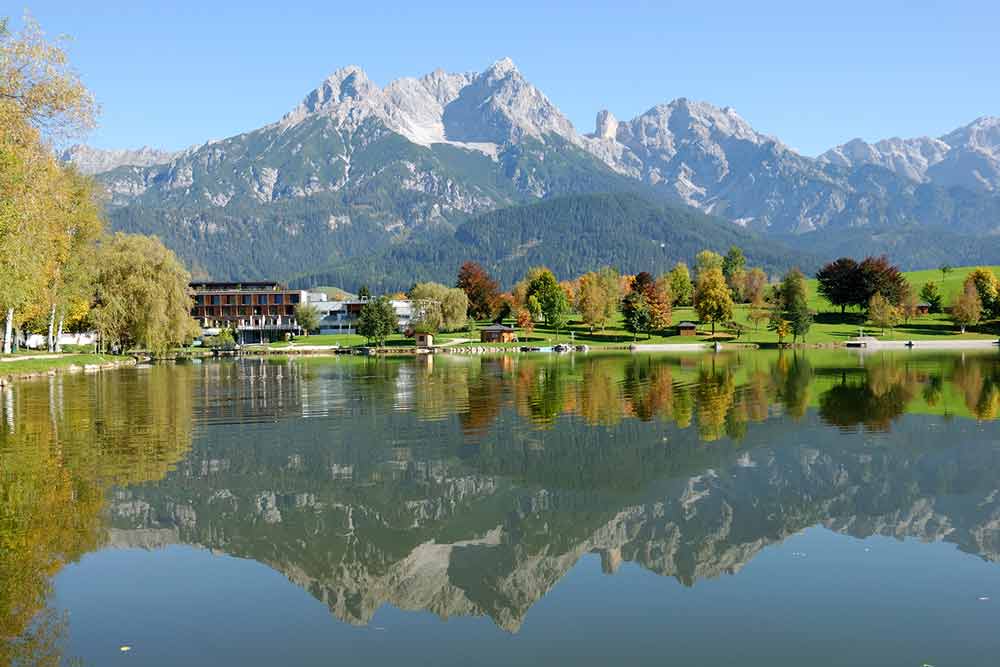 Swimming
For those who like swimming we offer an outdoor pool as well as an indoor one. Saalfelden has a beautiful lake for swimming too as well as public swimming pools in Saalfelden and Leogang with water slides and diving facilities. And entrance is free with your Saalfelden Leogang Card.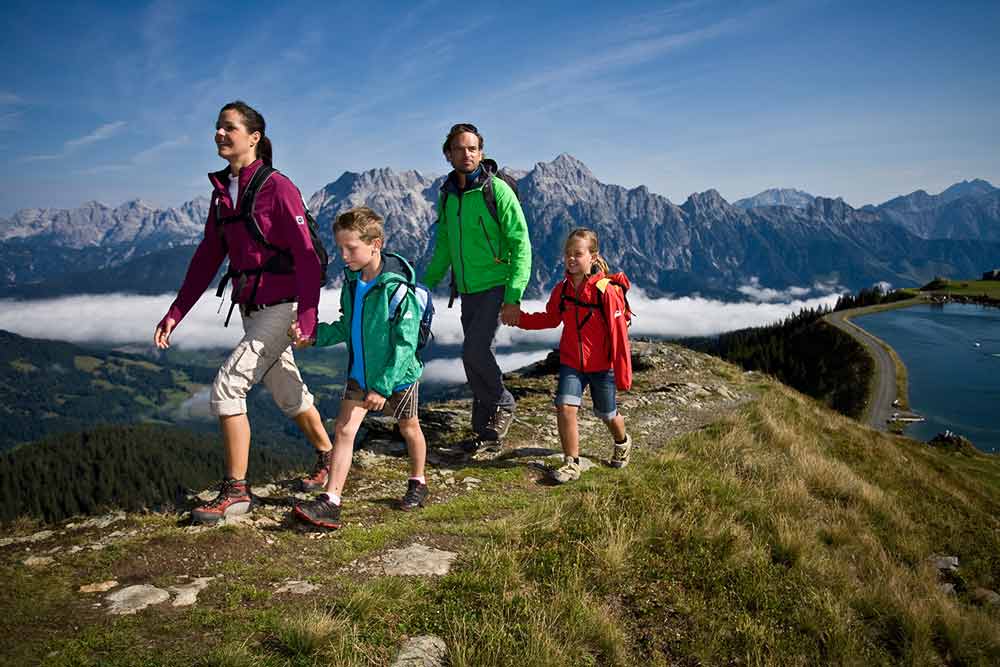 Hiking and climbing
Hotel Schörhof has more than 400 kilometres of hiking trails in close proximity and of different ability levels. We have chalets and restaurants up there in the mountains where you can enjoy tasty food and picturesque views.
If you are more into climbing you will find dedicated areas in Weißbach and Lofer.
Riding
Schörhof is well-known because of it's horses paradise. We can offer an unforgettable riding holiday für your children and the whole family with lessons and rides full of adventure across the Salzburger Saalachtal with it's beautiful landscape.
Golfing
Enjoy a golfing holiday in Saalfelden, we have two 18 hole sites at Brandlof and Urslautal and six more reachable within half an hour car drive. We offer a discount of 30 per cent at Golfclub Brandlhof.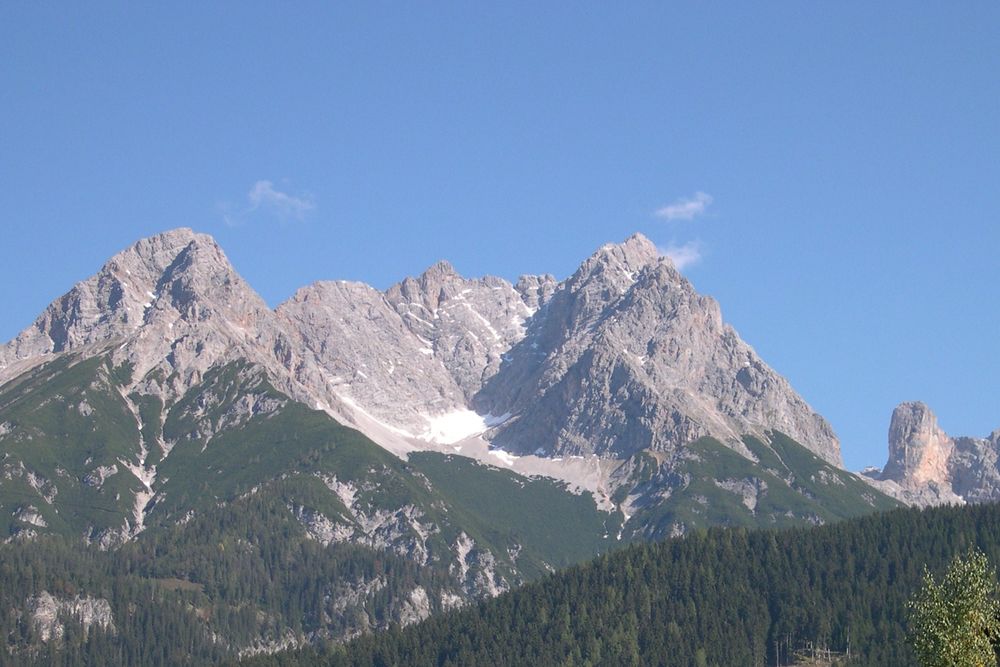 Hunting
The owner of the hotel is more than happy to accompany you on a high altitude hunt if you are an experienced hiker.
REALISTIC 3D ANIMAL FIGURES
Archery
If you are cross-bowing you will find a great trail next to our hotel with a beautiful panoramic view across Saalfelden.
There're offered up to 28 realistic 3D animal figures. If you are a beginner you can try the 18 3D animal parcours.
You can rent all the equipment directly there. For more information, please get in touch with the owner – Tel.: +43 (0) 677 624 461 40
ALWAYS ON A SAFE JOURNEY
Driving technique center
All kids love our new arranged children's playground with little waterpark, aerial ropeslide, climbing tower, trampoline and diverse climbing staffolds. Our little zoo makes children's eyes gleaming as well.
WINTER ACTIVE HOLIDAY IN SALZBURGER LAND
Your Austrian winter holiday
Enjoy your skiing holiday on perfectly maintained pistes.
You can choose between 90 kilometres of cross country slopes and three skiing areas: Maria Alm-Hochkoenig, Leogang-Saalbach Hinterglemm Fieberbrunn or Zell am See. If you don't like winter sports you can always opt for one of the thermal springs like Tauern Spa Kaprun or Rupertustherme in nearby Bad Reichenhall.
There is also the possibility for a horse drawn carriage ride or walks in beautiful winter landscape, be it in normal shoes or on snow blades. Lake Ritzen offers a natural lake to ice skate on.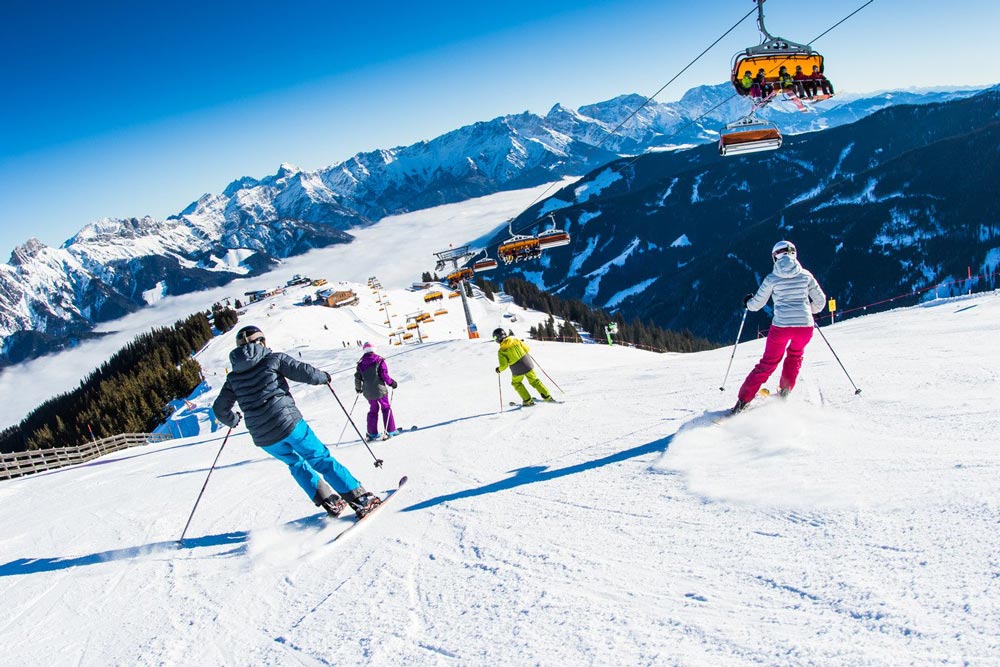 Skiing & Snowboarding
You can find plenty of slopes in nearby Leogang-Saalbach-Hinterglemm, Maria Alm-Dienten-Hochkönig. Whether you are a skier or snowboarder, you will find well maintained pistes and fun parks in our region.
Our hotel offers a heated ski and ski boots room, free shuttles to the lifts stop close by the hotel, an individual ski-shuttle is only 7,50 EUR one way (space for up to 8 persons)
Skipass prices Saalfelden-Leogang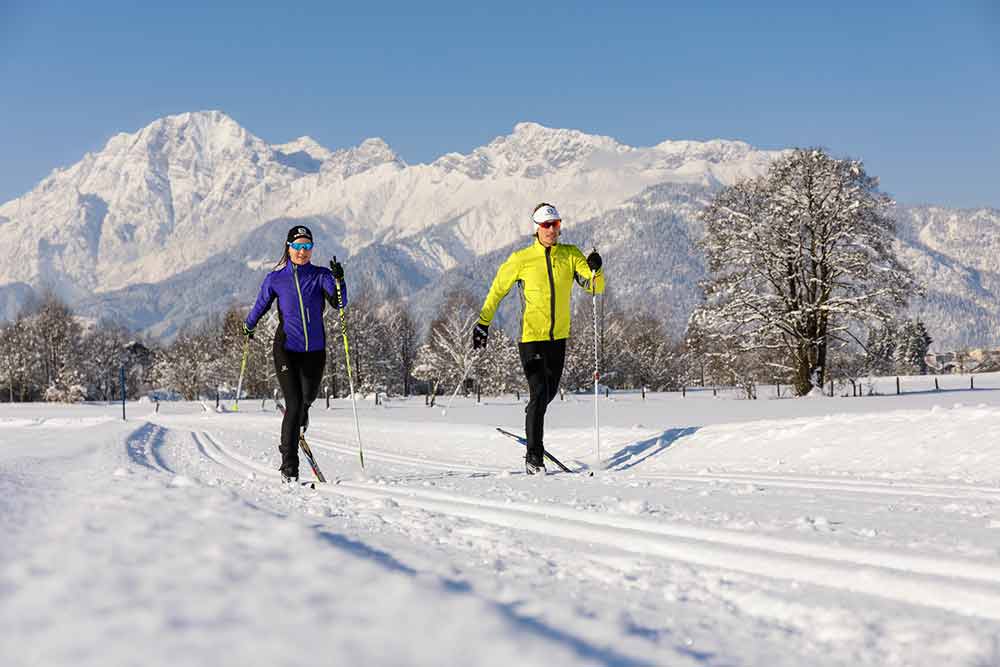 Cross country skiing
You can rent your equipment for cross country skiing directly at the hotel and can access the 90 kilometres of slopes from there as well.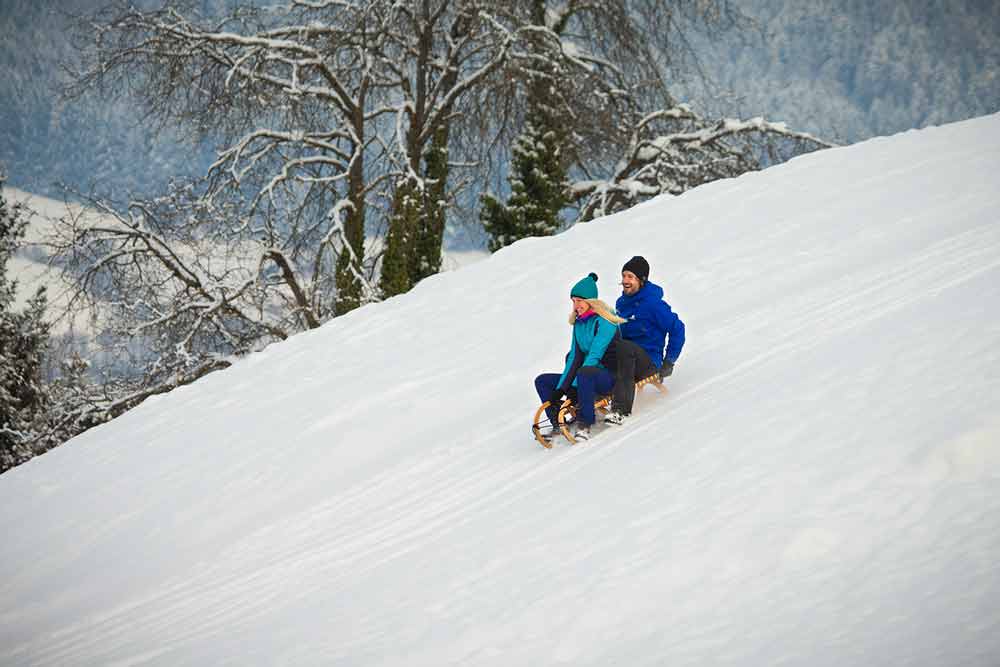 Sledging
Biberg with its six kilometres of sledging fun or Asitz with Leo's Kufengaudi, as well as Forsthofalm and Jufen in Maria Alm – sledging fun is guaranteed for all your family!
Winter hiking
Enjoy hiking on snow surrounded by snow capped mountains and trees. You will feel refreshed and happy after spending some time in winter wonderland.
Bow parcours
In wintertime you can select eighter to take a small or a big round to explore the beautiful winter-landcape around our hotel in a very special way. The parcours is opened daily, 365 days a year.
Directly in front of the hotel you find access to one of the best cross-country-circiuts of the alps. Enjoy the beautiful winter-landscape on 90 kilometers of perfectly pepared cross-country-slopes. You can rent cross-country-equipment diretly at the hotel.
SIGHTSEEING AND MORE TO RECOMMEND
Excursions
Discover a selection of exciting attractions in Salzburger Land and explore the amazing alps region with all her variety. Many close attractions bring pure alternation to your holiday – if you visit the impressive and highest waterfalls of Europe, if you slip down the summer toboggan run or if you gaze animals in the zoo.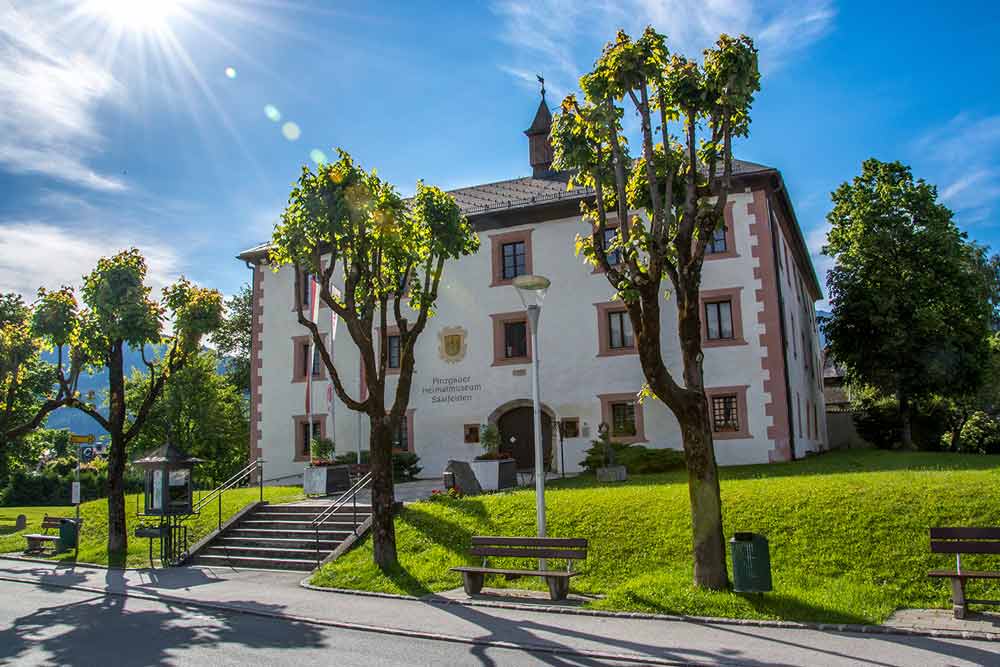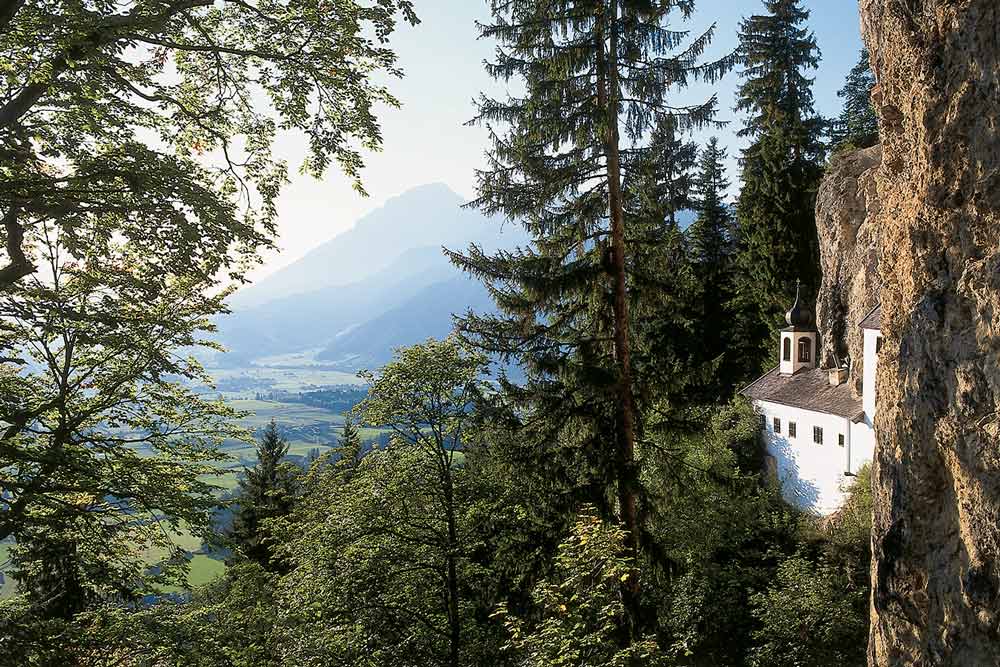 Einsiedelei (15 mins)
Museum in Leogang (15 mins)
Museum Schloss Ritzen (5 mins)
Kunsthaus Nexus (5 mins)
City of Salzburg (1 hour)
Cave near Sankt Martin (15 minutes by car)
Seisenbergklamm in Weißbach (10 minutes by car)
Water falls in Krimml (45 minutes by car)
Fortress Hohenwerfen  (1 hour by car)
Großglockner High Alpine Road and alpine zoo Ferleiten (30 minutes by car)
Summer toboggan run Saalfelden – Biberg (about 10 minutes by car)
Flying Fox Leogang (about 15 minutes by car)
Woodland slide park Maria Alm (about 20 minutes by car)
High rope course Maria Alm (about 20 minutes by car)
Bow parcours at Schörhof (directly at the hotel)
Leisure park Familyland Pillerseetal/Tirol (about half an hour by car)
Triassic Park Steinplatte Waidring/Tirol (about half an hour by car)
LET'S KEEP IN TOUCH – FOLLOW US
Hotel Schörhof on Social Media